5 Reasons to Clean Your Thermal Printer This Spring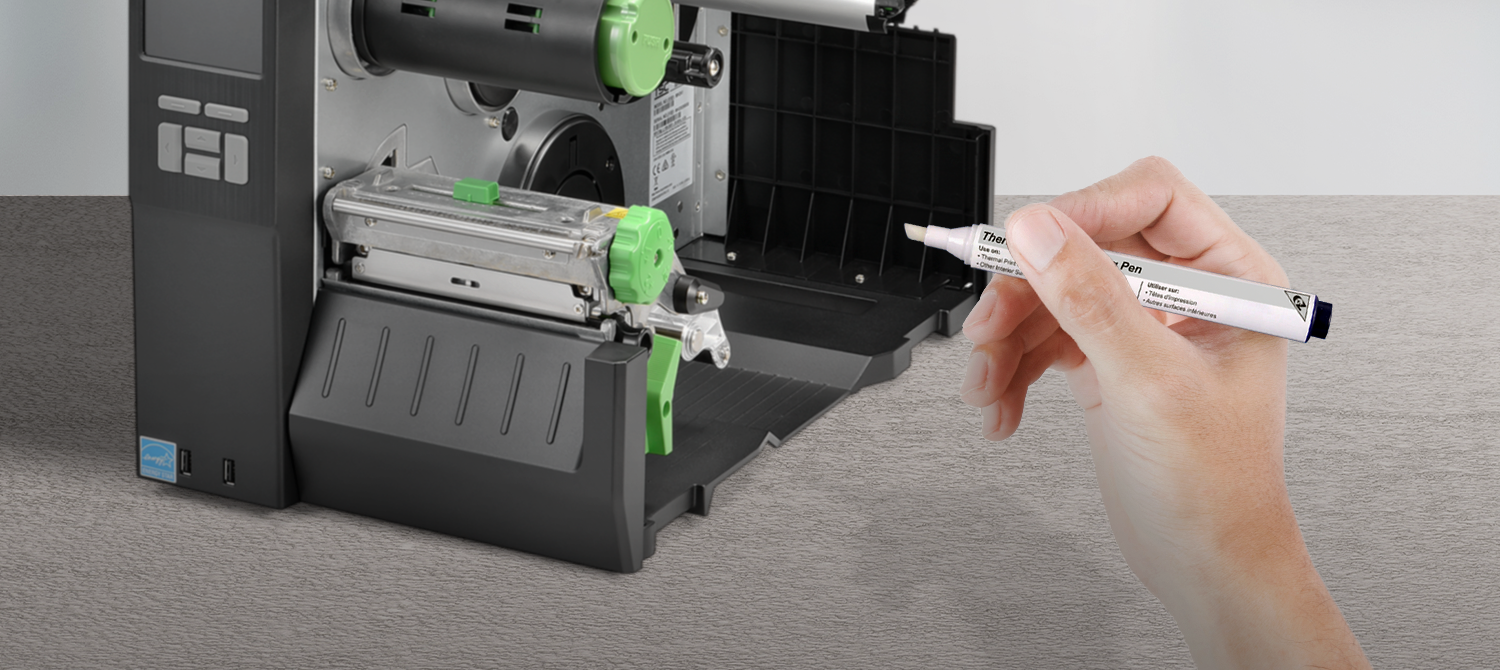 Thermal barcode printers are frequently used in mission-critical manufacturing and warehouse environments. Regularly cleaning your printer improves performance and reduces downtime. As we approach spring, we recommend that you add your thermal printer to your spring cleaning checklist. A simple cleaning routine will ensure optimal levels of efficiency in your operation, reduce service calls, and maximize the life of your printer. Cleaning your printer can also help prevent roadblocks to production like printhead failure, barcode scanning issues, and poor print quality.
Here are five reasons to clean your printer:
1. Optimal Performance

Clean printers lead to optimal levels of efficiency and performance. As a by-product of normal printing, printers often accumulate residues (media dust, adhesives, etc.). Routinely cleaning your TSC or Printronix Auto ID thermal barcode label printer can help prevent issues such as poor-quality prints and can boost productivity by limiting the number of interruptions in your workflow. Also, your printers themselves will be able to perform at optimal levels when the thermal printhead has a clean and clear path for label output.

2. Save on Maintenance Costs

When your printers are clean, they are less likely to break down. Instead of large replacement costs and time to integrate new printers, making sure the printhead and hardware inside your printer are clean can prevent the loss of crucial time and money.

3. Maximize Printer Life

TSC and Printronix Auto ID printers are built to last. A regular cleaning routine can help extend the life of your mission-critical equipment by making sure the hardware and its vital parts are free of debris and particles that can accelerate wear and tear.

4. Print Clear and Readable Labels

When run through a barcode validator or a handheld scanner, a piece of dust under the printhead can cause your barcode to fail or scan incorrectly. Cleaning printer hardware will help prevent your labels from being voided out and reprinted incorrectly. A clean printer can also prevent barcodes that scan incorrectly due to dust under the printhead. Reducing the chances of these bad barcodes from being shipped out can help prevent large fines from your recipients later down the line in distribution.

5. Reduced Service Calls

Minimize business disruptions by regularly cleaning your printer. When your printer is clean and operating at maximum capacity your mission-critical device is hard at work maximizing your revenue. When a printer goes down, every minute you are down impacts your bottom line. In the event of printer failure, your main concern is to minimize downtime. With TSC Printronix Auto ID On-Site Service and Extended Warranty Program, it just takes one phone call to reach someone who can quickly get your operation back up and running.
Use Recommended Cleaning Supplies
We recommend using the cleaning solutions and supplies found in your user manual. Using the wrong materials may damage your printer or printhead. We carry a full line of printer cleaning supplies to extend the life of your printer. Our line of thermal printer cleaning supplies is designed to ensure clean, consistent printing with optimal image clarity and maximize the life of the thermal printhead and printing mechanism.
We offer cleaning cards designed to remove even the most stubborn contaminants from the thermal printhead and the full circumference of the platen rollers on your printers. Our cleaning swabs can also effectively clean the thermal printhead, platen roller, and other interior surfaces of the printer. This tool is constructed of a foam tip on a slender, 5-inch applicator that makes it an extremely user-friendly and easy-to-use solution for cleaning hard-to-reach spaces within the printer. We also carry cleaning pens to effectively remove any residual dirt, ink, and other environmental contaminants from easily accessible printheads. Our pre-saturated cleaning wipes are designed for cleaning and sanitizing the interior of the printer as well as the thermal printhead.
Cleaning your printers regularly will not only help them last longer, but it helps guarantee that your labels are consistently clear and readable.
To learn more about TSC Printronix Auto ID thermal printers or the available cleaning supplies for your printer, contact your local sales representative.