EXCLUSIVE: Bringing Our Brands Together and Impact to the Company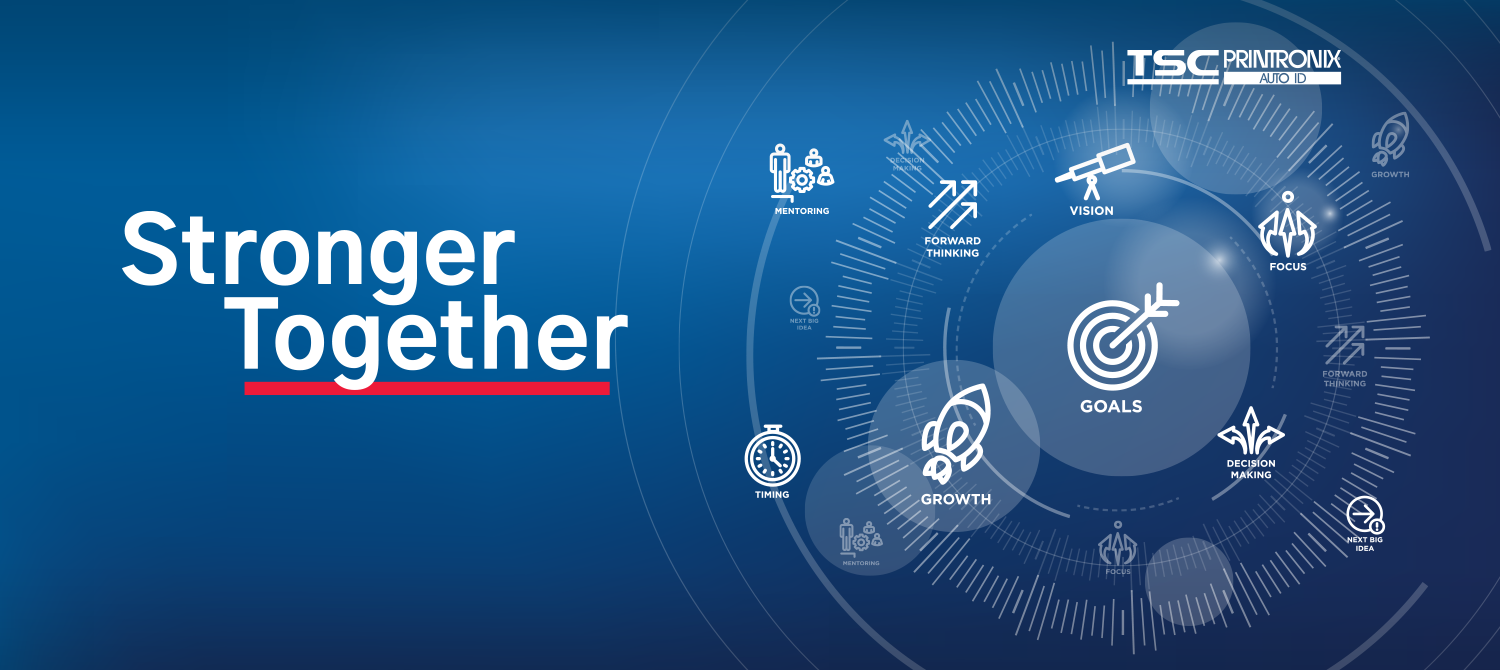 We sat down with Sam Wang, President of TSC Auto ID Technology Company to discuss the motivation for bringing the TSC and Printronix Auto ID brands together and the future outlook of the company.
Leveling Up to Support Enterprise Customers
Five years ago, TSC, a global leader in barcode label printing solutions, was well-known for its selection of desktop thermal barcode printers for small and medium-sized businesses (SMBs). Although the company had a complete portfolio that also included mobile and mid-range industrial printers, TSC was able to gain a foothold in the industry by designing and manufacturing high-performance, competitively priced desktop printers.
In 2016, TSC acquired Printronix Auto ID, a premium provider of enterprise-grade thermal barcode printers and printing technology in the US. The strategic acquisition had two main objectives. One, to broaden TSC's SMB product offering and further extend support to enterprise customers and two, to build upon its reputation in Asian and European markets and reach customers in the US and western hemisphere. Not only did Printronix Auto ID bring a distinction for product quality, but it added intellectual property, engineering talent, and operational excellence – assets the company and customers enjoy today.
"We started to see everything from a comprehensive solution perspective. We saw our business as more than selling printers. We started to shift our focus to include service and supplies," said Wang. "It was this point of view that led to the acquisition of Diversified Labeling Solutions (DLS) in 2019." DLS is one of the largest label converters in North America.
Accelerating the Development of Innovative Products
Since the acquisition of Printronix Auto ID, the company has accelerated product development and deployment of innovative printing technology into the market including RFID and barcode verification. This past year the Printronix Auto ID T6000e RFID printer was recognized as Top Products of 2020 by RFID Journal, the world's leading source of RFID news and information.
"The team has worked very hard to bring more product launches in the last 3-4 years than we did in the previous 10 years," added Wang.
In the coming new year, customers will continue to see renewed company investment in the latest asset tracking and identification solutions. The relationship between the two brands means customers gain unique access to a full range of products and can adopt leading-edge technology at all levels of the TSC Printronix Auto ID portfolio.
A Focus on Mobility
Mobility is one of the fastest-growing segments for TSC Printronix Auto ID, as well as the automatic identification and data capture (AIDC) industry in general.
"In an ever-changing business landscape, mobility is a key area of focus for us now and in the future," said Wang. "We've invested heavily in new mobile and IoT devices that are scheduled to release next year and have aligned ourselves with world-class partners like SOTI to deliver a better product and experience to our customers."
A Simplified Approach
Another key area of focus for TSC Printronix Auto ID is creating a better way for customers to engage with its brands, products, and services. One of the biggest company changes customers will see next year is a combined presentation of TSC and Printronix Auto ID – a consolidation that has been in progress since the beginning of the year and will culminate in a joint website and digital presence. Printronix Auto ID and Genuine Supplies will join TSC on all digital platforms at the end of this year and early next year.
"From a sales and marketing perspective, as we get bigger, we are starting to think smaller," stated Wang. "We believe that with a more simplified approach, we can streamline the way customers interface with our company and create a better experience overall."
The company is hard at work developing a new and improved TSC website that will provide better online tools and create an enhanced user experience, integrate the product portfolios of both hardware brands in a single product offering, and give more visibility to other products and solutions such as supplies, remote printer management software, on-site service, and much more.
Closing Thoughts
"We are very excited about the future. Although times are uncertain, I am very proud of what the team has been able to accomplish. We have been able to stay close to our business goals and initiatives. Our team has not been deterred or slowed down by challenges," said Wang. "We are adapting and continue to demonstrate to customers an unwavering level of support and service. We also continue to expand our product offerings to enable customers to track and monitor their goods in new, innovative ways. We have built a solid foundation and I am excited for what is to come."
To learn more about how you benefit from TSC and Printronix Auto ID coming together, click here or contact your local sales representative.